Sedgemoor District Council is delighted that land allocated for new housing to the east of the town will benefit from £5.5m of Government Funding under the first wave of the Government's Housing Infrastructure Fund.
This funding has specifically been allocated to help fund vital infrastructure and kick-start new housing. The Government has a clear priority to building the homes the country needs and the site at East Bridgwater can play a vital role in helping to meeting this objective. Bids to the fund were highly competitive as this grant funding for new infrastructure is intended to unlock new homes in the areas of greatest housing demand.
The site comprises land between Bower Lane, Dunwear Lane and the M5 motorway.  The site will potentially accommodate over 1350 new homes along with new schools, community facilities, and new areas of public open space.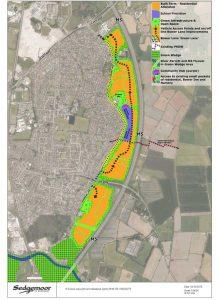 The development will also provide a new road linking Westonzoyland Road to the south with the A39 to the north providing improved access in the area. It will provide an opportunity to take traffic off Bower Lane making this a more attractive walking and cycling option whilst retaining local access to properties and businesses.
The £5.5m funding will be used to help fund this new road ensuring that it is in place as soon as possible and directly supporting the rapid delivery of much needed housing. Sedgemoor is already working with developers, landowners and Somerset County Council in order to ensure that the necessary planning approvals are in place as quickly as possible.
With this HIF funding now secured, it is envisaged that the first new houses will be completed from 2019 with others to follow quickly.
Leader of Sedgemoor District Council, Councillor Duncan McGinty said "This funding will provide much needed cash to bring forward further housing development in Bridgwater, through delivering a new and improved highway to the east of the town.  We are delighted that Sedgemoor were one of the local authorities recognised for its housing need.
Bridgwater's MP, Ian Liddell-Grainger commented, "I applaud the team at Sedgemoor for getting an allocation from the first wave of monies from this new fund.  I look forward to working with Government, Sedgemoor and Somerset County Council to deliver the homes our community needs"