Music on the Levels announces details of its free concert on Sunday 24 November in St Mary's Church, Main Road, Westonzoyland, TA7 0EP.
Thrill to the sound of brass in the fine acoustics of this wonderful church with Wallscourt Brass Quintet playing music ranging from Gabrieli and Handel to Peter Warlock and George Gershwin.
Wallscourt Brass Quintet consists of Ailsa Bailey and Stephen Bodiley on trumpets, Dave Gee on horn, Alice Bodiley on trombone and Philip Chidgey on tuba. For this concert, it is joined by John Bodily on organ.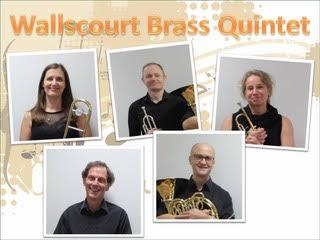 'The group repertoire ranges from light jazz at country fêtes to formal performances at official engagements', says Stephen Bodily. 'This programme has been chosen to compliment the church acoustic which is best suited to classical music, but with some lighter numbers for variety.
'Wallscourt Brass quintet was formed in 2002 when some Hewlett Packard Employees (and a couple of friends) discovered they had enough instrumentalists to form a group. Rehearsals were held in the old Wallscourt farmhouse which was part of the Hewlett Packard estate and is where the group derived its name.'
Much has changed since the early days and the farmhouse is now owned by the University of West of England (UWE), but the group has formed links with the university and rehearses on the Frenchay campus in the shadows of the old farmhouse. It shares performances with the UWE chamber group and regularly supports the university choir.
This year the group has performed at the esteemed Bristol Music club and last month supported the grand opening of the rebuilt organ at St Mary Magdalene in Taunton.
The regular programme of events includes the lunchtime concert series in Bristol, and the group supports the fund-raising programme at Southmead Hospital. 'Christmas is a particularly busy time playing in carol services and concerts,' comments Stephen.
Admission to the concert is free thanks to a grant from Westonzoyland Parish Council and the generous donations from members of the audiences.
Teas are available at a modest charge to enjoy before and during the concert and are served from around 3.00 pm.
The church is open all day and features an interactive exhibition about the Monmouth Rebellion and the Battle of Sedgemoor, 1685.
There is no need to book; just turn up at the church in time to be seated by 3.30 pm. Contact Frank on 01278 699071 or e-mail onthelevels@outlook.com for more information.
Or visit the Music on the Levels website at https://musiconthelevels.com
The season continues in the New Year with:
Sunday 26 January 2020, 3.30 pm St Mary's Church
Swing Fever
Swing fever is a six piece band playing a mixture of jazz styles and popular music. The band has been around for many years and has travelled extensively all around the world; one of the most prestigious gigs was in Ned Kelly's famous jazz club in Hong Kong.
In recent years the band has stayed closer to home playing at many venues in and around Weston-super-Mare. The band is led by trumpet player Mac Kirby.
Sunday 23 February 2020, 3.30 pm St Mary's Church
Reg Meuross
Folking.com soloist of the Year 2019, Somerset singer, songwriter and storyteller Reg Meuross writes and sings some of the most heart-aching love songs ever written, performed with depth and spellbinding delivery as well as story songs which bring characters from history to life and comment on life around him. "Brilliant singer-songwriter and true troubadour with a social conscience". BBC Radio 2 Folk Show
Sunday 29 March 2020, 3.30 pm St Mary's Church
Platform for young musicians
A showcase for talented performers from South West Music, Centre for Young Musicians Taunton, Somerstage Theatre School, Bridgwater and Taunton College and others. Please contact us if you want to take part.
Sunday 26 April, 3.30 pm St Mary's Church
Madrigals and songs for voice and lute
Songs and lute solos from the Golden Age of English music.
An afternoon of musical delight presented by soprano Mary Morgan and lutenist Steve Graham.
Sunday 31 May, 3.30 pm St Mary's Church
Kitty Macfarlane
Award-winning songwriter, singer and guitarist from Somerset, whose music takes its inspiration from the Levels, from the starling murmurations to the lowly eel's epic transatlantic migration, and the small part we ourselves play in a much bigger picture, her songs are bound by the underlying theme of mankind's relationship with the wild.
Saturday 20 June, 3.00 pm St Mary's Church
Rough Round The Edges
Concert to coincide with the annual Church Fête.
Rough Round the Edges is a group of friends who have a shared love of music, this ranges from folk songs and tunes to classics like My Old Man's a Dustman. The group performs with banjo, mandola, whistles, guitar, recorder, flute and percussion.
Rough Round the Edges has taken part in the Glastonbury Fringe, Night at the Abbey and the Lavender Fields, Axbridge. It has also played for Barn Dances and in a range of places including tents, a cow shed and even an inglenook fireplace.